Olga mistress decides to punish Yana - Liquid diarrhea mouth full - Hands full of shit - Punishment of a naughty dog Yana is very cruel (Yana, ModelNatalya94, Olga) 29 May 2018 [FullHD 1080p] 5.82 GB
Tags:
Lesbian Amateur
,
Yana
,
ModelNatalya94
,
Olga
,
Anal Scat
,
Lesbian
,
Amateur
,
Domination
,
Milf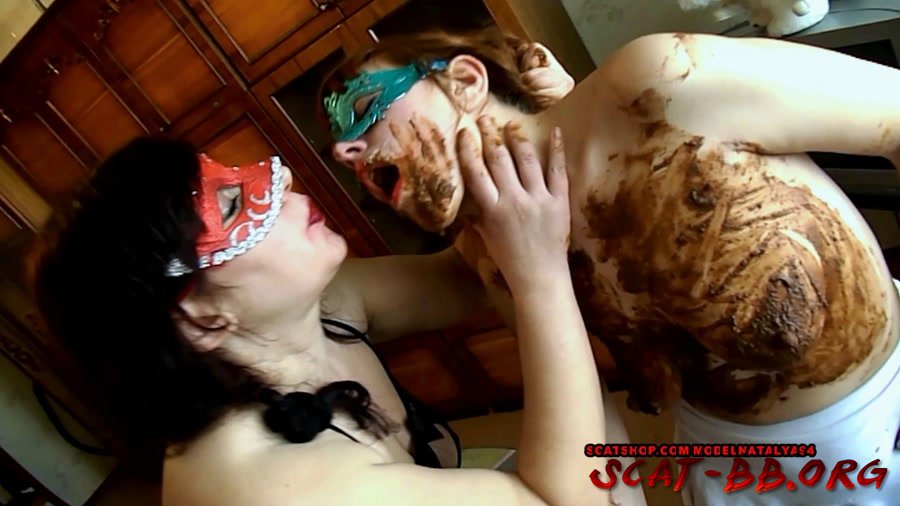 Video Title: Olga mistress decides to punish Yana - Liquid diarrhea mouth full - Hands full of shit - Punishment of a naughty dog Yana is very cruel
Actress: Yana, ModelNatalya94, Olga
Genre Scat Porn: Anal Scat, Lesbian, Amateur, Domination, Milf
Info:
Duration: 01:01:43
Quality: FullHD 1080p
Format: mp4
Size: 5.82 GB
Olga mistress decides to punish Yana
Olga likes when Yana slave and she loves the fact that there is such an obedient whore and a slave. This time Olga's forcing Yana to do anulingus at the time when Olga's ass comes out shit. Oh yeah it only need to see shit when Olga and Yana Olga licking ass. Olga shit in the transparent plate she ordered Yana to eat this plate of shit Oh yeah and Yana as a real slave has carried out the orders of Olga. Then Olga ordered to smear Breasts Yana shit Oh fuck what a dirty nipples and Tits Yana, they are all shit. Olga took Yana by the hair and forces you to crawl like a cancer dog, a slave Yana, Yes, you want to see her in such a role she is ready for everything. Olga this is not enough and she picks up the rubber dick and starts to have a dirty whore Yana in the ass about how he goes deep in the ass Yana. Olga pulls out a rubber cock from the ass Yana, and Yana starts to shit in the transparent plate. Olga again begins to take Yana in the ass rubber member. Leaving the rubber member in the ass, Yanina, Olga takes Yana by the hair and again forcing to crawl just the rubber member in the ass. Yes Yes this is a very hot video , and Olga and this is not enough, she takes the rubber cock pulls out of the ass Yana smears shit again and shoves in the ass Yes ass Yana Yana working. But this is not enough Olga makes you eat shit from a plate of Yana picks up shit and puts shit in her mouth, Yes, Yana's mouth is full of shit, and Olga puts rubber member Yana in the mouth where a lot of shit, Olga several times ordered Yana to gain a mouth full of crap, and again puts Yana in the mouth with a rubber cock, then spits Yana in mouth shit. Oh yeah it was a really hot video mistress Olga and Yana slaves. Olga deals with Yana hundred percent, Yana has no words and she can't resist lady Olga.
Liquid diarrhea mouth full
Yana and Olga love to fill each other mouths with shit especially liquid diarrhea. This time Yana and Olga were doing to each other anulingus, their tongues caressed each other anus, but in that moment when she was fondling the anus Yana, Yana launched a great stream of liquid shit into the mouth of Olga, but John is not finished she repeated this several times, Oh yeah Olga was a mouth full of liquid shit diarrhea. Yana took the rubber cock , and thrust into the mouth of Olga when Olga was a mouth full of liquid shit. Then Olga and Yana are reversed, now Yana caressed the anus Olga, And Olga, too, fills the mouth diarrhea Olga, Oh Yes she does it a few times, mouth Yana took a large quantity of liquid shit diarrhea, Olga also put Yana in her mouth rubber member, when Yana had a mouth full of liquid shit. In this clip the girls fill each other mouths with liquid shit diarrhea, fart , and play with rubber cock. This is a very hot video for you, our beloved friends.
Very dirty game Olga and Yana
A large quantity of liquid produce diarrhea in their mouths Yana and Olga at the time when they in turn caress the anus to each other. Body Yana and Olga all the shit but girls do not stop and continue to swim in the crap, Yana likes to watch as Olga rides on rubber cock, but it is a very dirty video. All body and floor in the room covered in liquid shit. Large shots of liquid diarrhea from the ass Yana and Olga, Yes, it's just a thrill to watch such videos with the participation of Yana and Olga
Hands full of shit
Yana decided to give you dirty show, Yana wore tights panties, skirt and a transparent blouse. Yana pulled the pantyhose and panties, and stuck out his hands and filled them with shit, big pile of shit in the hands of Yana, then Yana began to sniff his shit, lick it with your tongue, Yes, Yana gets a lot of pleasure from the fact that she can play with her shit. After that, Yana started to smear his face, chest, and cunt shit. Yes, that's a dirty whore who loves shit. Any of you who wishes to Yana and Olga zapisali for you live in your personal home collection, then you can make a custom query. And we'll be happy to do practical your every desire. Learn more about our offer when you call.
Punishment of a naughty dog Yana is very cruel
I like how Olga treats me like a dirty whore and slave Olga has brought me to my knees and took the belt in his hands. And ordered me to crawl on my knees and she held me by the hair and customized the blows on the ass with a belt. I like these games and to me they are very much excited , Olga squeezed my nipples on the Breasts, and then ordered his loyal dog lick her pussy, Oh Yes I am a loyal dog and servant. After she punished me a bit of Olga put me cancer and began to shit on my head, Oh Yes it is now I instead of shampoo, I like it a lot, Olga took me by the hair again and led her through the circle and I crawled behind her on his knees. Shit was running down my face, and Olga ordered me to shit I started to shit and piss standing cancer on the knees. Olga took my shit in his hands and began to smear shit on me for the hair on the face and chest, I'm all in shit's just fine I'm a fucking whore slave do with me what you want and I'm very excited. Olga leaves the room leaving me alone all in the shit and with a lot of pleasure I lie on the floor and fall asleep. There is no stop and prohibitions! You want more wicked games to play it then write your scripts to video shooting and you will get their home collection very hot video with our participation.
Yana eats our shit
My girlfriends gave me shit, the three of us dressed erotic mesh that we bought in the sex shop, we wear sexy lingerie to make you able to enjoy our bodies, Breasts pussy and ass. My girlfriend Caroline and Alice decided to feed me shit, we went into the room and was holding in his hands a plate. Then my girlfriend put it on the floor and asked me to be the first to shit in a bowl, I walked over sat on his haunches and began to shit and piss in a bowl that was on the floor, after I took a shit in a plate of Alice and followed her into the bowl give a shit Carolina. After that, the girls picked up a plate and a spoon and began to feed me shit turns. Before I eat all the crap off the plates of my friends didn't let me go , I almost threw up so many shit I felt bad but my friend still continued to feed me shit from the plate.

*1 482
*29-05-2018, 22:59
Dear visitor, you went to the site as unregistered user.
We encourage you to
register
or enter the site under your name.