The iron chains on the slaves (ModelNatalya94) 19 June 2018 [FullHD 1080p] 1.22 GB
Tags:
Threesome Scat
,
ModelNatalya94
,
Threesome
,
Amateur
,
Milf
,
Mature
,
Scatting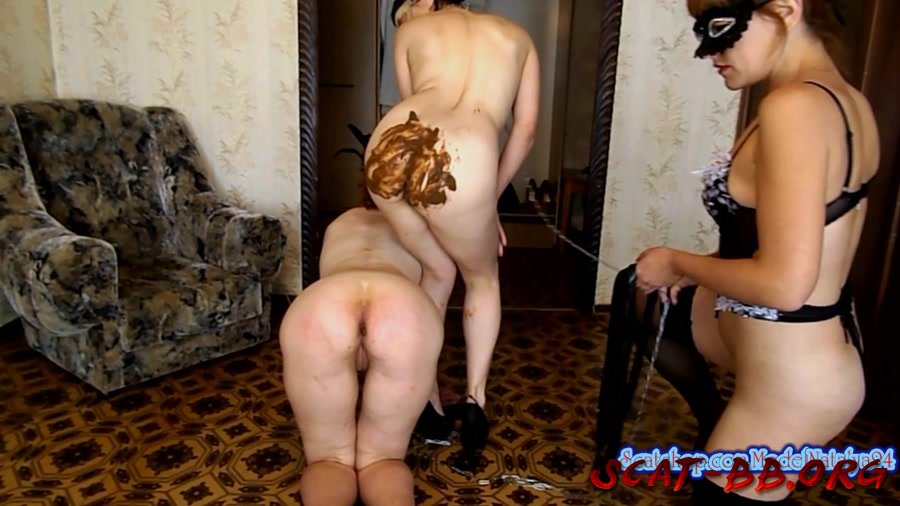 Video Title: The iron chains on the slaves
Actress: ModelNatalya94
Genre Scat Porn: Threesome, Amateur, Milf, Mature, Scatting
Info:
Duration: 00:13:03
Quality: FullHD 1080p
Format: mp4
Size: 1.22 GB
I decided to humiliate their girlfriends Marina and Alice and I ordered them to be in this video, absolutely naked they must not be what kind of clothes and on their necks will wear steel chains, they are your slaves that will obey all what I say, the first two servants Marina and Alice sitting on the floor on his knees after they sat a little I take a steel chain in hand and begin to obedient whores in a circle, two whores and slaves Marina and Alice are crawling around in a circle with bare Asses I want these two fucking to show you their bodies what they are obedient whores and who can not refuse as they will be punished. I walk two slaves in the room Marina and Alice crawl around the room cancer on my knees and I'm holding their chain which chained their necks . I ordered two slaves will remain to be a cancer on my knees and I pick up the whip and begin to punish it in turns to whip the two slaves they stand with bare Asses bent over his knees like an obedient dog after the punishment of the two slaves I order Marina fondle ass Alice, Marina begins to caress the ass and pussy of Alice, and Alice at this moment is cancer on my lap, I'm watching it all get a lot of pleasure, I am very excited and I order the slave Marina to shit and piss on ass female slave Alice , Marina stands up, I hold her chain and Marina shitting and pissing on ass female slave Alice, Marina uses Alice as its own toilet, but it's enough for me, and I ordered the Marina to eat own shit which she just shot out of your ass, Marina sits down next to her knees and starts to eat own shit I'm taking Marina by the hair and smeared face, shit in the ass Alice, the Marina all shit. Marina also has a mouthful of shit, I order the slaves to switch places now the whore Marina is cancer and Alice caresses first Marina's ass with her tongue and then Marina's pussy, after playing with the anus and Marina's pussy I order the slave Alice to stand up and shit on Marina's ass, Alice gets up and shits and pisses on Marina's naked ass, after Alice used Marina's naked body as her own toilet I order Alice to eat her own shit first and then by the hair and smearing shit all over Alice's face and Marina's ass. My two slaves in this video perform all that I order them, I walk them around the room, they are chained they crawl naked cancer on their knees showing you their bodies ass Tits , pussy , then they take turns caressing each other shit and piss on each other's own shit and again show you themselves.
Download The iron chains on the slaves (ModelNatalya94) 19 June 2018 [FullHD 1080p] 1.22 GB

Dear visitor, you went to the site as unregistered user.
We encourage you to
register
or enter the site under your name.